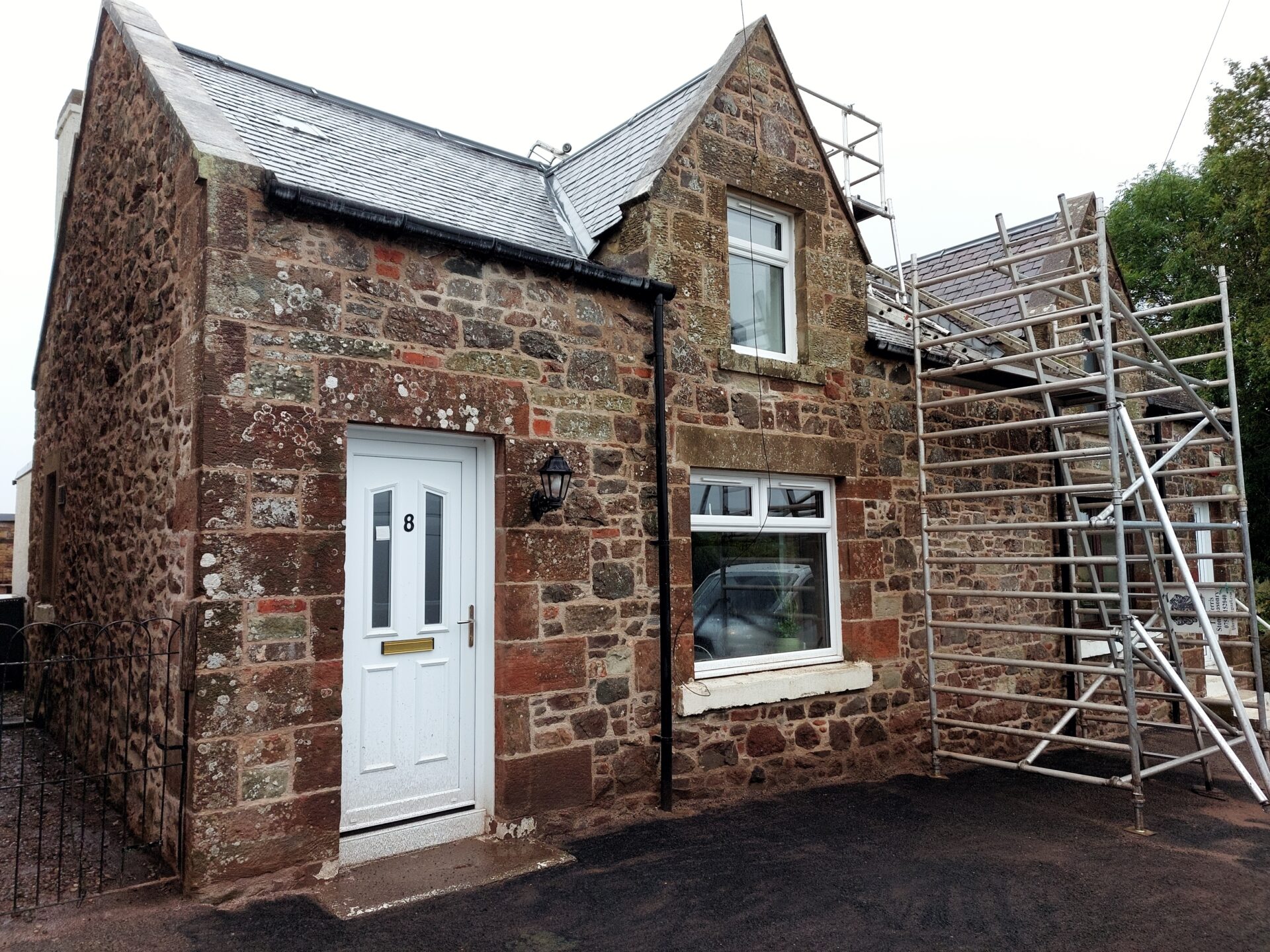 Lime Pointing
Historic stonework relies on the interconnected pore structure of lime mortar to ensure that water and vapour can pass through the wall. Cement mortars or inferior lime mortars simply cannot do this effectively. Over time, however, lime mortar can deteriorate and needs re-pointing to ensure that buildings are weather-proof. The stonemasonry team at T J Ferris has extensive experience in the re-pointing of lime-built walls and buildings, having served apprenticeships and attended training courses with the Scottish Lime Centre.
Very happy with the work done by Thomas and his team. The work involved some plastic repairs (lithomex) to my tenement wall to fix an area of stone that had delaminated and crumbled away. It was quite an awkward spot to get to as the access scaffold had to be built on another flat roof and the repair itself was high level, just below the gutter line, but they done a great job and got it sorted despite some very windy weather. I would recommend to friends and call on them again if the need arises.
Tom was recommended to me by several people and I am glad I went with their recommendations. He is obviously highly experienced and the end result is fantastic. I didn't really know what I needed but Tom advised me how it should be done. He is very flexible and keeps you informed of how and when is best to carry out the work, taking care to consider weather conditions. A true professional!
The front landing of our colony house was about to collapse and in need of urgent replacement. Several tradesmen looked at the situation but vey few appeared confident about being able to sort the problem. Luckily Thomas and his team were able to remove the old landing and rebuild in-line with the building and steps connecting. Work was swift and professional and the end result looks great as well as being both safe and solid.
I was made aware of T J Ferris Stonemasonry when I saw their work at Ayton Castle. I commissioned them to build a concave wall in my garden, which was completed within time and budget. Subsequently he has gone on to work on the Grade A listed walls on our estate. We would now use T J Ferris Stonemasonry as our first choice.
T J Ferris Stonemasonry were competitively priced, friendly and approachable. They started the job quickly and the finished result looks fantastic. We will come back to them in the future.
Stone repairs, replacement of ridge tiles and pointing of chimneys and wall heads.
Excellent service. I have used TJ Ferris Stonemasonry on a number of occasions now and would not hesitate to recommend this company both for the work done and value for money. Both Thomas and Blake are excellent workmen.
T J Ferris Stonemasonry were selected to be the sole contractor when undertaking stonework and restoration due to their ability to complete work on time and budget to the highest standards. T J Ferris Stonemasonry have restored and conserved many different elements at Ayton Castle to the highest standards of craftmanship and professionalism. Starting with the complete restoration of oldest structure in the local area the dovecot in 2014. Thomas and his team have continued working on nearly every part of the estate from restoring and fitting fireplaces to structural alterations and large-scale lime pointing. Their ability to work skilfully and safely at height was even called upon when fitting the new flag pole.
We're really pleased with the quality and workmanship carried out by Thomas and his team who were hardworking and courteous.